U.S. House Votes To Ousts Kevin McCarthy As Speaker. Patrick McHenry To Run Term With Steve Scalise Health Challenge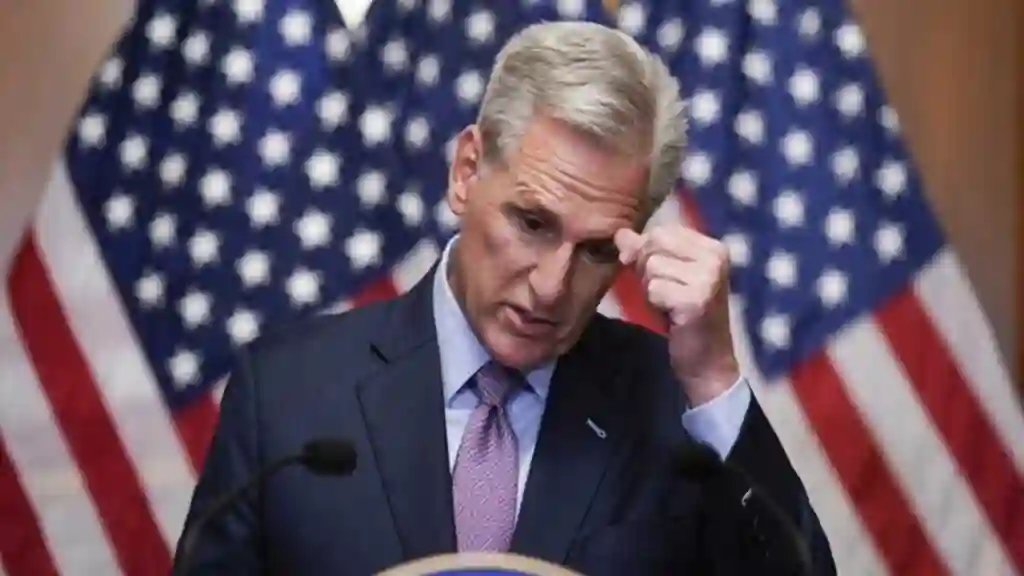 Tuesday's vote to remove Kevin McCarthy as U.S. House Speaker by dissident Republicans and Democrats was unprecedented since it came just nine months after McCarthy had been elected speaker following days of negotiations with the GOP's right flank and 15 rounds of voting.
After the vote, it wasn't immediately obvious how the House would move forward because it had entered new ground. The House has never before removed a speaker. Rep. Patrick McHenry of North Carolina was chosen to serve as speaker pro tem until a new speaker was elected.
The Florida Republican Rep. Matt Gaetz's move to vacate was approved 216-210 on Monday night, capping months of rising discontent among a tiny group of House Republicans.
Reps. Andy Biggs of Arizona, Ken Buck of Colorado, Tim Burchett of Tennessee, Eli Crane of Arizona, Reps. Matt Rosendale of Montana, Bob Good of Virginia, and Nancy Mace of South Carolina all voted in favor of McCarthy's dismissal.
They also opposed the motion's tabling, which was done immediately before the vote and would have halted the proceedings.
Victoria Spartz of Indiana, Cory Mills of Florida, and Warren Davidson of Ohio all voted against tabling but in favor of maintaining McCarthy as speaker.
The speakership was declared vacant by a unanimous vote of the existing House Democrats.
Only three motions to vacate have been submitted thus far: one in March 1910, one in July 2015, and the current one.
Rep. Patrick McHenry appointment came following House Majority Leader Steve Scalise announcement that he was diagnosed with blood cancer.
"After a few days of not feeling like myself this past week, I had some blood work done", McHenry said. "The results uncovered some irregularities and after undergoing additional tests, I was diagnosed with Multiple Myeloma, a very treatable blood cancer," Scalise said in a statement seen by Simba Daily.
"I have now begun treatment, which will continue for the next several months. I expect to work through this period and intend to return to Washington, continuing my work as Majority Leader and serving the people of Louisiana's First Congressional District," he said.
57-year-old Scalise is the second-highest ranking Republican in the House after Speaker Kevin McCarthy. He is a top member of the House GOP conference and has long been considered either McCarthy's opponent or possible successor.
The Republican from Louisiana is no stranger to hardships and health problems. He was critically injured in a gunshot that occurred in 2017 at an early-morning practice before a charity baseball tournament. He managed to survive the incident.
"I am definitely a living example that miracles really do happen," Scalise said following his return to Capitol Hill.
In response to the news, fellow MPs quickly expressed their sympathies and support.
McCarthy said of Scalise in a statement, "anyone who knows him knows he's a faith-filled fighter who can overcome any obstacle that stands in his way. I spoke with him today and he's in good spirits, as nothing—not a gunshot and certainly not cancer—will stop him from accomplishing what he sets his mind to."
Elise Stefanik, chair of the House GOP Conference, said in a tweet that there was "no stronger fighter."
"There is no stronger fighter than @SteveScalise. Steve is as tough and kind as they come, and he has beaten so many unbeatable odds. The Legend from Louisiana is beloved by his colleagues and America and we know he will fight this next battle with that same resolve," Stefanik posted.
"We are proud to stand by to support Steve and his family as they embrace strength and faith in this next challenge," she added.
The medical report was described by the White House as "devastating news."
"Our hearts and prayers go out to the Congressman and his family – clearly, he's gone through a lot over the past couple of years," White House Press Secretary Karine Jean-Pierre told reporters during Tuesday's White House press briefing. "That is very sad news, and clearly we are hoping for a speedy recovery for him."
The malignancy known as multiple myeloma develops in plasma cells, which are white blood cells. Bone discomfort or breakage, backaches, recurrent infections, anemia, weight loss, and weariness are some of its symptoms. Imaging, bone marrow, blood, and urine tests are used to diagnose it. While certain myeloma types require active therapy, others just need watchful monitoring.
Although multiple myeloma is not thought to be curable, people can live a long time with treatment. While certain treatments may be effective in the beginning, many patients cease responding or experience cancer progression, necessitating the use of a new medication.